An Ultimate Guide of SMSF Investments in Cryptocurrency
 Self Managed Superfund or SMSF is a private fund, introduced and designed only for those people who want to control and manage all their ongoing investments and long term retirement returns, and nowadays you also can use SMSF to buy and invest in digital cryptocurrencies including Bitcoin, Ripple, Ethereum and others. 
But, before jumping into this blockchain industry, you need to clear some of the doubts to understand the market and to perform the task, reading and exploring the topic is a must. 
That's why we have crafted this guide through which we show you how you can Buy Cryptocurrencies using a Self Managed Superfund. So just stick to this blog post and dig all you need to obtain regarding the advanced way of digital money investments. 
"A Self Managed Superfund (SMSF) is a retirement fund that is chosen by some investors to give more control to their retirement plans but it has some restrictions around investing which you need to know before making a decision. "
How to Buy and Invest in Crypto Using SMSF

? 
Before delving into the vast array of SMSF investments, it's important to clear some basic things about Cryptocurrencies and other digital money platforms; you should know what they are, how do their markets work and other important aspects. 
So let's dig into all the questions which may occur in your mind before making Self Managed Super Fund investments in Cryptocurrency. 
Cryptocurrency- Step-by-Step Explanation  
A cryptocurrency is a digital or virtual currency that is secured by cryptography, which makes it nearly impossible to counterfeit or double-spend. Many cryptocurrencies are based on decentralised networks based on blockchain technology. I.e. They use a distributed ledger enforced by a disparate network of computers. 
A defining feature of cryptocurrencies is that they are generally not issued by any central authority, rendering them theoretically immune to government interference or manipulation.
Note: Choosing a cold wallet with a private key, rather than a default wallet offered by crypto exchanges or a hot online wallet, will provide additional security for your crypto investments. 
How to Make Cryptos investments through SMSF?
First of all, you need to create an online trading account and join an online exchange. Now sign up in your SMSF account using your login credentials. Now it is time to get a verified business account. 
In the second step, you need to fund your account and there are several methods you can use to perform the task. But remember always choose a verified and trusted online exchange which provides you with a secured payment method. 
The exchange for the SMSF is identified as the SMSF trustee of the owner of the account. So remember to link the right bank account to both SMSF exchange accounts.
Ideally, you should set up a single digital wallet for all your fund's cryptocurrency transactions to make record-keeping as simple and transparent as possible.
Note: There are dozens of digital wallet providers, but only a handful is suitable for SMSF investors.
Now after checking and accepting all the details including the email address used for SMSF, ask for permission to fund your account through SMSF auditors. You should need to follow the SIS act and regulations to complete this process. 
Invest Strategy and Fund's Governing Rules
As per the reports, in 2014, the Australian Taxation Office (ATO) ruled that cryptocurrencies are a legitimate form of investment for SMSFs. It has proposed the following set of new rules and conditions.
They are allowed for under the fund's trust deed

They comply with the fund's investment strategy

They comply with all relevant super legislation, just like any other SMSF investment must do. For example, SMSF cryptocurrency investments must be:

Held in the fund's name (not in the names of individual fund members)

Valued according to ATO guidelines (explained later in this article)

While the number of SMSFs investing in cryptocurrencies is rising, the latest ATO statistics show the value of cryptocurrency assets held by SMSF was $137 million in June 2020. That's a drop in the ocean of total SMSF assets of $733 billion.
What is the Sole-Purpose Test? How does it link to Crypto?
The sole purpose test needs to be met in order for a Self Managed Superfund to be eligible for tax concessions. Not only that, failing the sole purpose test can not only mean losing the concessional tax treatment for the SMSF, but also civil and criminal penalties for trustees. In order to satisfy this test, you will need to ensure that neither you, nor anyone else can benefit from the investment decisions you make in your SMSF – ofcourse, other than the SMSF itself benefiting from your investments.
So, as you guessed it – keep your SMSF Crypto account separate to any personal investment accounts to ensure you do not fail the Sole-Purpose Test.
Note: Like all SMSF investments, your SMSF cryptocurrency must be kept separate from your personal cryptocurrency assets.
Tax Consequences and Valuation 
ATO considers all the cryptocurrencies as assets because when you sell digital coins, you generate more profit leading to you incurring capital gains tax. Conversely, you can offset your capital gains through capital losses. These are the tax consequences you will get after investing in digital currency through SMSF. 
While talking about the valuation, you should know that any crypto assets held by a super fund will also be valued. It's a legal requirement for SMSFs to value their assets according to ATO guidelines as part of their annual reporting, and cryptocurrencies are no different. They must be valued at their current market rate as at midnight of June 30 at the end of each financial year – as opposed to stocks where you would get the market rate at the time of the market closing. 
What is the value of cryptocurrencies?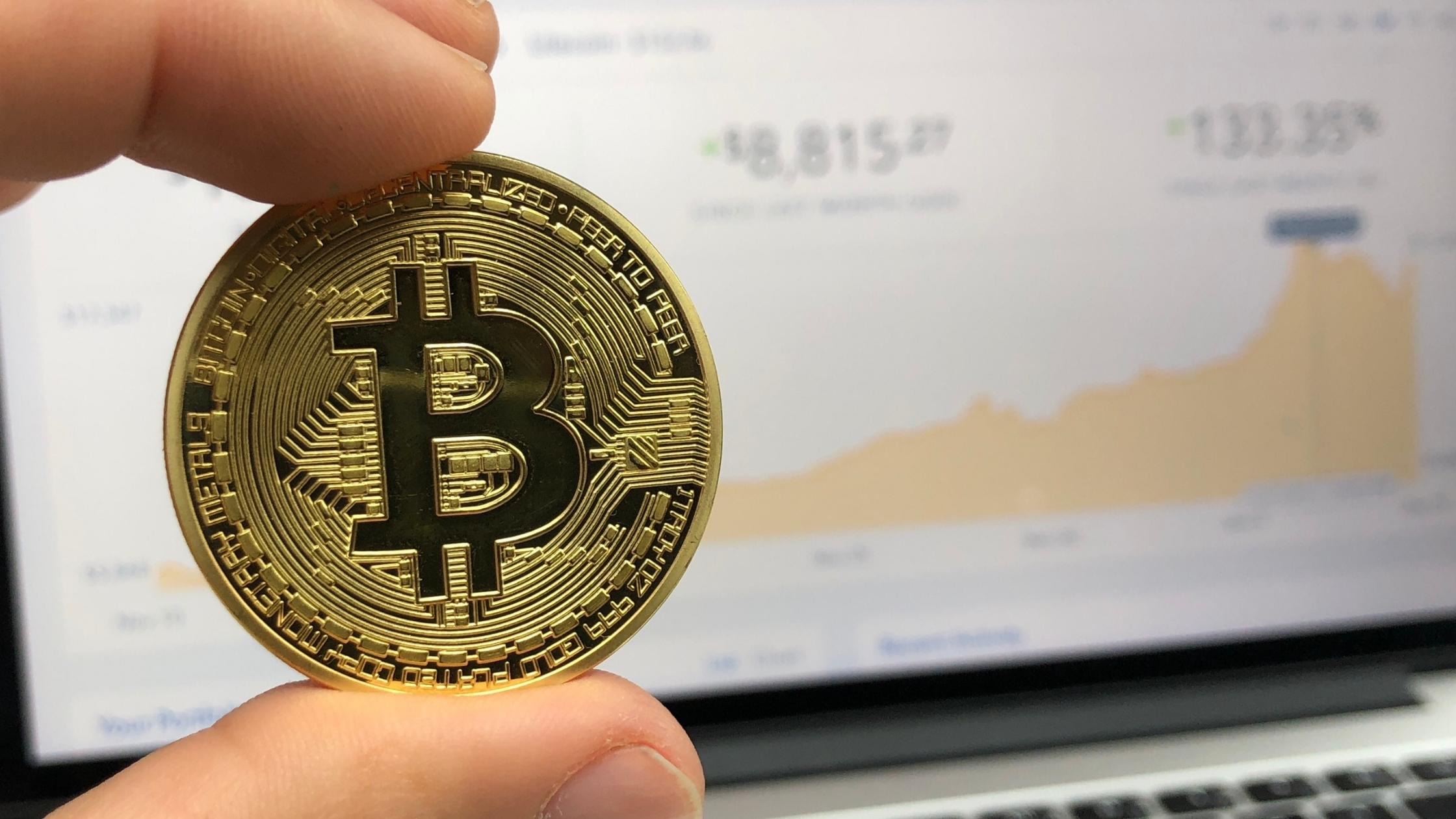 Like any currency, cryptocurrencies only have value if enough people recognize them as an acceptable form of payment in exchange for goods and services. And like any currency, the value of cryptocurrencies can rise or fall over time based on the forces of demand and supply as well as investor sentiment.
For example, a single Bitcoin was worth $458 in September 2014. Three years later the price hit a peak of $25,506, before dropping back to earth. In October 2020, bitcoin was trading around $15,000. As of November 2021, the price of a single Bitcoin is around the $80,000 mark. This makes cryptocurrencies highly volatile and may lead to either extremely large gains or losses.
"That is not to say that cryptocurrencies do not have a place in a well-diversified SMSF investment portfolio. They are best thought of as an alternative asset class with little or no correlation to traditional asset classes such as shares, property and bonds. But diversification and knowledge are keys to reduce potential risks." 
What are some of the risks of SMSF cryptocurrency Investments? 
Cryptocurrencies are not legal tender in many countries, even though they can be used to pay for goods and services if a seller is prepared to accept them. It simply means that cryptocurrencies do not have the backing of any bank or the Australian Government – unlike the Australian dollar, which is backed by the Reserve Bank and the Australian Government. 
So investors are unlikely to receive government support if a cryptocurrency they hold ceases to exist for any reason. Digital currency can also potentially be stolen from your fund's digital wallet by online hackers, though you can (and should) arrange for insurance against this happening. 
How to find instant and round the clock SMSF Solution? 
Investing in cryptocurrency using your Self Managed Superfund is not a hectic task but at the same time, it is not the bread and butter of many seasoned investors. So, you need some sort of expert advice to finish the task sometimes and that is where you need to connect to the trading professionals. There are multiple traders and investors you can find but the problem is how you can choose the best and trusted one? 
Don't need to think much, we also offer a blend of services related to SMSFs and cryptocurrencies so, you can get in touch with our team of SMSF advisors to find out more about how you can invest in Crypto through your SMSF and what the key limitations are.
The Final Thoughts- 
After gathering a lot of advanced information from different sources about Self Managed Superfunds and Cryptocurrencies, we hope to have cleared all your doubts related to digital money and how you can easily buy and invest in Cryptocurrencies through SMSFs. If you still have any doubts, contact us today for expert advice.